PCT FOR SALE

Yes, its true: Peterborough Community Theatre is for sale.
We are open for business and showing top-rated movies, however, the business (not the building) is for sale. For more information, please visit this page: https://nh.craigslist.org/bfs/6167093335.html.
1971 SCREENING WITH Q&A PANEL

On May 8, 2017, Peterborough Community Theatre welcomed guests John and Bonnie Raines (featured in 1971) and BJ Johnson (Former Black Panther) .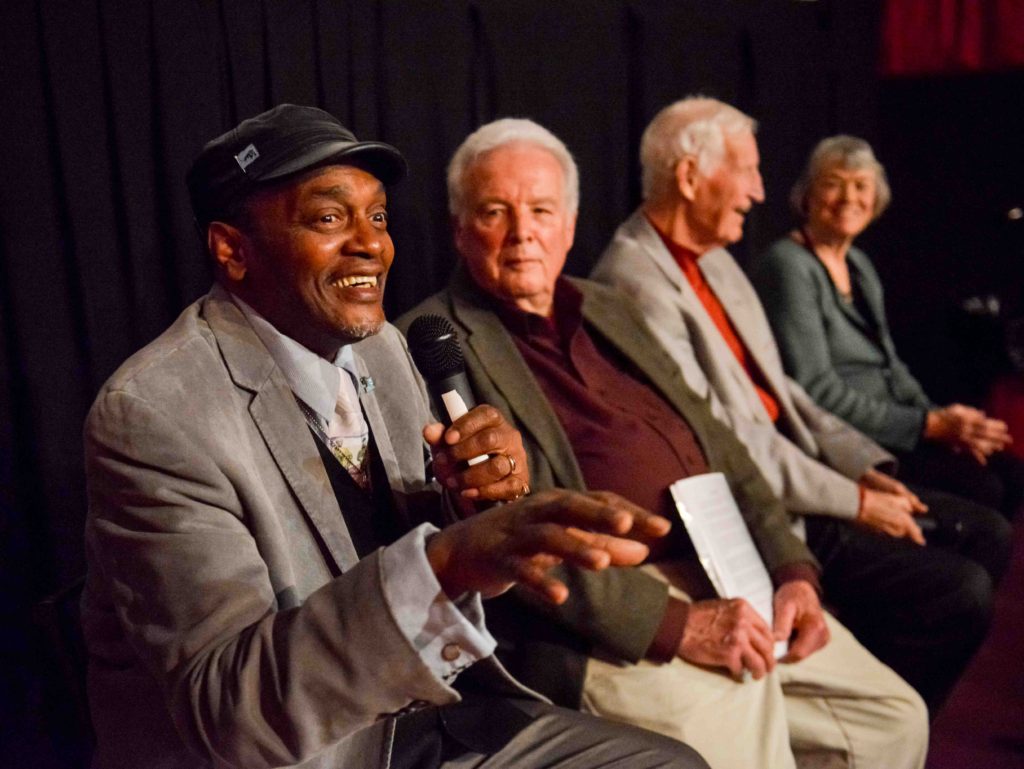 Photo credit: Lipofsky.com
---
2016 SUMMARY

Each December we provide a year-end summary of the big news at Peterborough Community Theatre. Click HERE for the review.
---
CLEAN POPCORN PLEDGE

We are proud to exclusively use certified organic, GMO-free popcorn!
---
RESERVED SEATING POLICY
If someone is physically challenged and needs an aisle seat, we will reserve it for them and their guest. Examples would be someone with a broken foot or a walker. Please call ahead to 603-321-8018, at least an hour in advance, to let us know.
If a patron is wheelchair-bound, seating next to that person can be reserved for their guest. We ask that you call ahead to 603-321-8018 at least an hour in advance so that we can be prepared to assist you.
If you've purchased a movie ticket and want to save your seat, you may place your coat, sweater, or scarf on it to do so. However, we cannot guarantee it will be there when you return to the theatre. You may NOT place beach towels, ropes, or blankets on your seats to reserve them.
Patrons are not permitted to bring signs of their own that state or imply "reserved" seating.
---
The new seats are here and they are incredibly comfortable! I hope you enjoy them.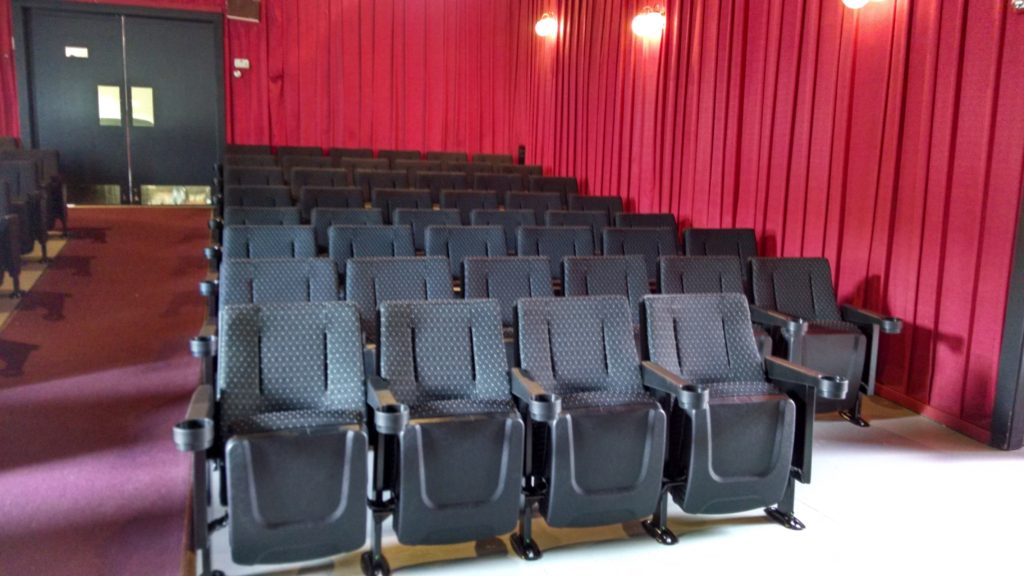 ---
Historic Movie Theatre Notecards
Available for purchase at the ticket counter during show hours.
Quantities are limited.
$8 for a set of 4 full-color notecards with envelopes of historic movie posters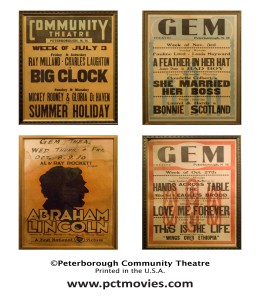 $7 for a set of 5 black and white notecards with envelopes of 1921 theatre ads from the Peterborough Transcript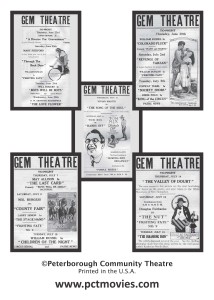 ---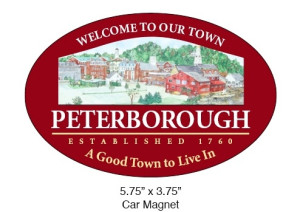 Show your LOVE for Peterborough! These fridge and car magnets are now available. AND, they were made right here in Peterborough at Time Frame, Inc.!!
The fridge magnet (3″x2″) is $2.00 and the car magnet (5.75″ and 3.75″) is $7.00.
---

As of September 16, 2015 we offer DVS for the blind and visually impaired. We also offer neck loops for those with T-coil hearing aids!

The Peterborough Community Theatre would like to extend a BIG thank you to:
Peterborough Lions Club
SAVED
PeoplesVC
Kiwanis Club of Peterborough
The Well School
The Cornucopia Project
Melanie Bertoni
Sarah Jordan
Mariposa Museum
Peterborough Woman's Club
Liana M. Poodiack, Senior Vice President – Investment Officer, Wells Fargo Advisors, LLC
and three anonymous donors for pledging the funds needed to install our new Descriptive Video Service (DVS) system! We are the only movie theater in Hillsborough and Cheshire counties to offer this service.

DVS delivers descriptive narration for the blind and visually impaired via infrared listening systems sent directly into headsets without disturbing other audience members.
The descriptions provide narrated information about key visual elements such as actions, settings, and scene changes, making movies more meaningful to people with vision loss.
The DVS system also provides neck loop assisted listening devices for those with T-coil hearing aids.
---
We're now offering mini chocolate bars!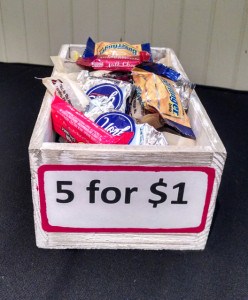 ---