TICKET PRICES
Adults – $10.00
Seniors (62+) – $8.00
Students – $9.00
Children (12 and under) – $7.00
Matinee (before 5pm)- $8.00
No advance ticket sales
– We only sell tickets the day of the show
– We do not sell tickets over the phone
– We do not reserve tickets
We are a small old-fashioned movie theater. This means we don't have fancy online sales for tickets (i.e. expensive) If you are concerned with getting a seat for a show that may sell out, we open 45 minutes before showtime and you can purchase your ticket early, place a hat, coat or scarf on a seat and return later. We cannot guarantee that your 'reservation' will be honored by other patrons, but find that this system works pretty well since our patrons are quite respectful.
If you purchase a movie ticket for a friend who hasn't arrived yet, and that friend also purchases a ticket, you will not be entitled to a refund. Our policy clearly states on the concession board "All Sales Final". Please make your ticket purchasing plans ahead of time; we cannot be held responsible for double purchases.
Do you qualify for senior ticket pricing? Please don't make us guess; tell us BEFORE you purchase your non-matinee tickets. Thank you.
We do not accept Fandango Gift Cards, or any other online movie tickets. 
We accept Apple Pay, Google Wallet, Movie Pass and debit/credit cards.
We welcome cash and also accept most major credit and debit cards, including MasterCard, Visa, Discover and American Express. We also accept local checks and cash. There is a small fee associated with using a credit card. 3.99% of the total sale.
CAMERAS & RECORDING DEVICES


The use of cameras or recording devices of any kind is strictly prohibited inside the theater.
CONCESSIONS
We are a movie theater, not a restaurant. If you're looking for soup, sandwiches, ice cream, beer, coffee, pizza, or burgers, there are a number of restaurants downtown that offer such fare.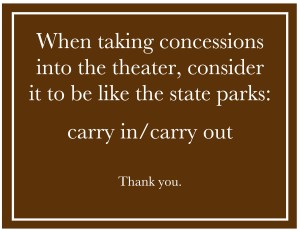 Our GMO-free popcorn is pure, clean, and NOT cooked in anything fake, just canola oil.
We use only real sweet cream butter, when you request it, and we offer nutritional yeast and our own popcorn toppings made in-house.  They're made with only natural ingredients and nothing you can't pronounce. We offer ranch, chili lime, dorito, coconut curry and coffee paprika as our savory flavors. Sweet toppings include gingerbread, mexican chocolate, kettle corn,  and cinnamon roll made with only sugar and spices.  
Large –      $6.00          Refill – $5.00
Medium – $5.00          Refill – $4.00
Small –      $4.00          Refill – $3.00
Shake N' Share popcorn bucket lids for our large size popcorn!
Each lid is only $1 and fits onto the bucket so you can shake to evenly coat the popcorn with butter and seasonings. Once in the theater the Shake N' Share Lid can be used as a bowl to share!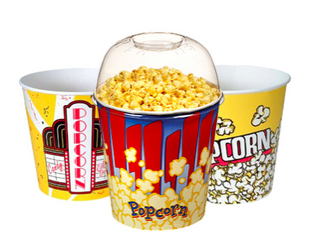 Parents and grandparents now have the ease in portioning out a proper serving for the kids. Groups of patrons can enjoy the popcorn without reaching and causing a mess. And if you have leftovers, the lid can seal back on to take home to enjoy later.
Drinks are $2.25 and we offer a variety of bottled sodas, lemonade, juice, and iced tea.
Do you want to be a little easier on the environment or maybe just want a little less? We now offer 12 ounce cans of Polar Seltzer in a handful of flavors. Each can is only $1.00.
Bottled water is $1.00.  Our water comes in 100% recycled plastic bottles that are BPA free.  Feel free to bring in a reusable water bottle to help protect our environment from single use plastics. Bringing in coffee in to-go cups is fine with us too! Better yet, a reusable lidded coffee cup!
Candy is $2.25 a box.
We have recycling bins by the door on your way out. Please put your bottles in the bin, thank you!